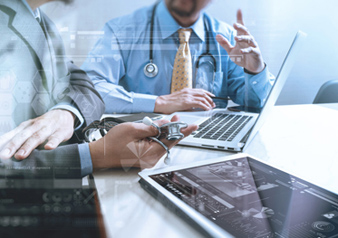 Impact of Information Technology (IT) in the growth of the healthcare industry has reached heights, with several studies proving the better outcomes of this combination. A systematic literature review published recently in the Journal of Medical Internet Research says that adoption of health information technology (HIT) continues to provide positive medical outcomes. Since the setting up of the Health Information Technology Economic and Clinical Health Act (HITECH Act) in 2009, implementations of EHR systems have increased dramatically in the past few years. EHR-integrated medical transcription services also help physicians with better documentation of reports. According to the Zion Market Research report, key advantages associated with the EHR system and financial incentives by governments of various countries are among the main catalysts for the growth of the EHR market, all over the world.
The study authors note that "HIT has the potential to improve the quality and safety of health care services. Providers who leverage HIT to improve medical outcomes can position themselves for sustainability in the future." Aimed at analyzing the current literature for the impact of HIT on medical outcomes, two researchers from the school of health administration at San Marcos-based Texas State University analyzed 37 peer-reviewed articles published during the last five years.
The team queried the Cumulative Index of Nursing and Allied Health Literature (CINAHL) and Medical Literature Analysis and Retrieval System Online (MEDLINE) by PubMed databases for peer-reviewed publications in the last 5 years that defined an HIT intervention and an effect on medical outcomes in terms of efficiency or effectiveness. They structured the review from the Primary Reporting Items for Systematic Reviews and Meta-Analysis (PRISMA), and conducted the review in accordance with the Assessment for Multiple Systematic Reviews (AMSTAR). Based on the review, it was found that
There was at least one improved medical outcome tied to adoption of a health IT intervention in 81% of the articles
The rest 19% of the articles indicated no statistical difference in outcomes as a result of the health IT intervention
Twelve categories of HIT and three categories of outcomes occurred 38 and 65 times, respectively
12 different categories of health IT, with a total of 38 occurrences were also examined. Web-based interventions were analyzed most frequently at eight of 38 occurrences (21 percent). Telemedicine and software programs were the next most frequently identified interventions, occurring seven of 38 occurrences (18 percent), and six of 38 occurrences (16 percent), respectively.
The study concluded that a strong majority of the literature shows positive effects of Health IT adoption on the effectiveness of medical outcomes. Considering medical transcription outsourcing from companies that interface seamlessly with your EHR/EMR system would be a better option. It also noted that healthcare providers will continue to be incentivized to adopt health IT as policy makers respond to quality and safety concerns, and reimbursement methods transition toward value-based purchasing.