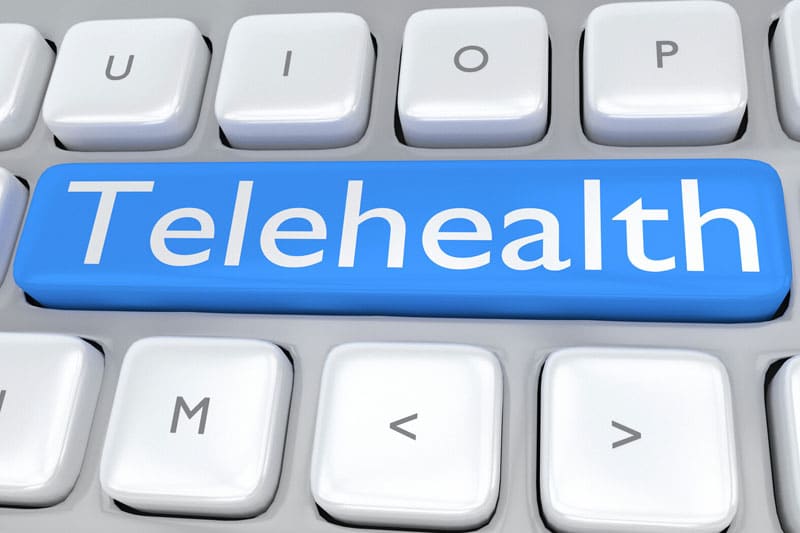 Healthcare providers across the country were quick to adopt telehealth services when the COVID-19 pandemic hit. With lockdown and social distancing, telehealth provided access to care remotely. State and federal governments took emergency measures to reduce barriers and improve coverage for telehealth. Medical transcription companies ensured accurate and timely documentation of telehealth encounters in electronic health records (EHRs). While telehealth has proved a game changer during the ongoing crisis, healthcare organizations are now reviewing their experience in the virtual realm and evaluating the pros and cons of telehealth adoption.
Pros of Telehealth Services
According to a report from the U.S. Department of Health and Human Services (HSS), in February before the public health emergency, less than one percent (0.1%) of Medicare primary care visits were conducted through telehealth, but this proportion rose to 43.5% in April 2019. This clearly shows that Medicare providers and beneficiaries have rapidly embraced the new opportunities for telehealth provision. Many providers believe that people will want to use telehealth more often in the future. For instance, Mei Kwong, executive director for the Center for Connected Health Policy says, "Telehealth has been the missing element to how we deliver healthcare. But now people are familiar with it. They now have the experience and will want to see it used more often." (www.mhealthintelligence.com).
The pros of telehealth services are:
Expands access to essential health: Various categories of patients, such as self- or home-isolated patients, those with mild cases, patients needing follow-ups after discharge, can get the essential care they need, including for chronic health conditions and medication management, using telehealth platforms. Telehealth provides access to primary care physicians and specialists, including mental and behavioral health professionals. One way the pandemic has changed telemedicine services is that physicians can provide services not only for established patients but also for new patients.
Telemedicine triage: Reports predict a sustained interest in telemedicine triage even after the pandemic. Teletriage allows care teams to screen patients, assess their risk and urgent care needs, answer their questions, and decide on a course of action before they see them in person. This capability greatly reduces the demands on in-person primary care, urgent care, etc. It also benefits patients as they can get expert guidance quickly using tele-triage. Many patients will continue to see telehealth as their first point of contact for urgent care, notes Ethan Booker, MD, medical director of Maryland-based MedStar Health's Telehealth Innovation Center and the MedStar eVisit platform (mhealthintelligence.com).
Reduces healthcare providers' risk of exposure to the virus (sick persons): The adoption of telehealth technology helps reduce staff exposure to infected and potentially contagious patients, preserves personal protective equipment (PPE), and minimizes the impact of overcrowding in facilities.
Offers flexibility and saves costs: Patients and providers can connect and participate in video/audioconferencing sessions and exchange information using any device, from computers to smartphones. Patients do not have to leave their homes to meet with their physician, avoiding the costs and challenges of travel/transport. Visits can be scheduled at a time convenient to both the patient and provider. Physicians are now allowed to waive/reduce cost-sharing for telehealth visits.
Streamlines workflow: Telehealth services include real-time telephone or live audio-video interaction, asynchronous wherein patient information is collected at one point of time and responded to later, and remote monitoring of vital parameters like blood pressure, blood glucose, other remote assessments. With a well-integrated, telehealth portal, providers can log in, see patient requests, and set up a video conference with the patient. They can also view patients in the virtual waiting room and obtain patient medical records from the EHR. Physicians can enter notes directly into the system at the encounter, and automatically generated transcripts can be later reviewed and edited by their medical transcription service provider.
Reduces non-shows and cancelations: When patients can see their physicians from home, the possibility of no shows and cancellations are reduced. Talking about her experience providing virtual therapy services during the present crisis, Pam Shepard, LCSW, Supervisor of Clinical Services, Holt-Sunny Ridge says, "Because clients did not have their usual schedules and extracurricular activities, they typically looked forward to our sessions!" (www.holtinternational.org).
Cons of Telehealth Services
Telemedicine is not without its drawbacks, with the main criticism revolving around its potential impact on quality of care. The key limitations of remote care are as follows:
Patient data confidentiality: Concerns have been expressed about patient privacy policies. According to a HIT Consultant article, while healthcare organizations have stringent measures in place to comply with HIPAA regulations, the HITECH Act, etc., telehealth raises concerns about patient privacy. The article lists various emerging telehealth-related security threats: Unauthorized access to patient data by employees, snooping on patient data, compromised records (unusual access patterns across locations), failed logins and download spikes, gaining access via terminated or dormant user accounts, and accessing discharged patient records or deceased patient records.
Image quality: The effectiveness of telemedicine in certain fields depends on image quality. When external signs and symptoms are important to identify the problem, such as in dermatology, telemedicine can be useful. However, image quality can be a challenge when using telemedicine. Medical image compression for image sharing in telemedicine applications can affect picture quality – the lower the resolution, the lower the end quality. There is also the question as to whether images taken using smartphones are reliable for accurate clinical diagnoses (www.swymed.com).
Cannot always replace actual face-to-face visit: There are many situations wherehands-on care would be necessary, such as for providing chemotherapy to a cancer patient or fixing a fracture. In his article on www.hbr.org, Dr. David Blumenthal, who is president of the Commonwealth Fund, asks, "Could a Zoom visit detect a lymph node too firm, a spleen or liver too large, or an unexpected prostate nodule (with a normal PSA)?"
Patients' lack of technology and knowledge to use it: In a recent Kaiser Family Foundation survey only 7 in 10 adults age 65 and older (68%) reported having a computer, smartphone, or tablet with internet access, compared to all younger adults. Many older patients did not know how to use digital tools for health, and were also concerned about their privacy and preferred face-to-face consults. For telemedicine to succeed, it should be user-friendly and assistance should be made available online for patients who lack technological abilities.
Despite these barriers and challenges, telemedicine has proved its value during the COVID-19 pandemic by speeding and expanding access to care. Though telehealth visits have reduced since healthcare facilities opened up, they offer many benefits and there is an increasing demand to make them more available in the future.
Proper documentation of medical consultations is crucial. Medical transcription services are available for documenting remote consultations as well as in-person care.