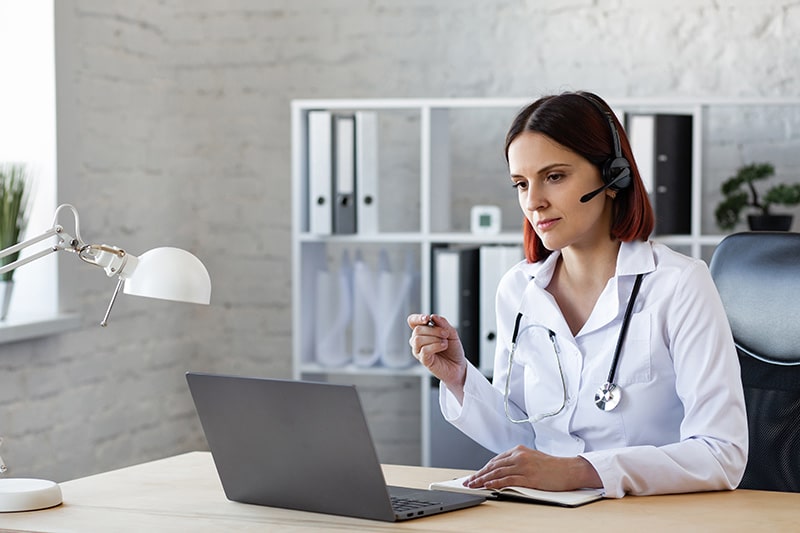 Virtual healthcare has become widely accepted as a way for physicians to remain connected with patients during the global coronavirus pandemic. Real-time, audio-video communication between physicians and patients had been in force prior to the pandemic. Now, telemedicine ensures that people with chronic and other serious conditions get the care they need as they follow stay-at home-orders. HIPAA compliant medical transcription services ensure that these encounters are securely documented.
The global telehealth market size is projected to expand at a compound annual growth rate of 23.4 per cent and reach US$266.8 billion by 2026, according to a report from Fortune Business Insights. Whether telehealth is provided by video visits or phone calls, medical practices need to know the dos and don'ts of implementing a remote care strategy.
Dos
Develop guidance for providers to deliver virtual care to patients in any location in accordance with state and federal guidelines.
Practitioners should check whether existing law allows them to provide telehealth services and, if so, whether additional legal requirements or restrictions apply. They would also need to confirm with insurance companies that they can bill for reimbursement. They should know the codes that can be billed and the services that cannot be billed via telehealth and also check malpractice insurance.
Choose technology that is most effective and accessible for the patient. Train physicians and clinicians about how to use the telehealth technology. Providers should be trained on how to navigate the virtual portal, access workpools, and also interact with patients over the video or telephone. IT staff should test connectivity and remain available for problem solving.
Prepare for the visit. Send the patient instructions in advance of the visit. Obtain patient consent and past medical, surgical, and social history.
Make sure that the patient's settings are favorable to a smooth virtual encounter – ask the patient to lower background lighting, reduce background noise, charge device battery, and if possible, evaluate bandwidth.
Use a secure room for telehealth visits and inform patients about the steps taken to secure your room, including the security of the technology used and any other precautions taken to safeguard patient information.
r first session. Ensure good lighting. Overhead lighting is best as it can distribute light evenly. Camera placement should be such as you can maintain good eye contact with the patient during the entire visit. Choose the right set up for your monitor, especially if you want to take notes during the session. Have a computer charger handy so that potential power failures won't disrupt the session. Ask your patients to do the same as well.
Create the necessary documentation templates to track activity within the electronic health record (EHR) for eVisits and phone encounters. Maintain the structure of the in-person clinical note template. Partner with a reliable medical transcription service vendor to document virtual visits.
At each encounter, document the following:

Key points observed by the attending clinician
Plan of care requiring medical decision making
Total time spent with the patient
Any exam components not completed because of telehealth limitations

Use medical devices for remote monitoring of in-home care and improve clinical observations. These devices, which include wearable sensors, implanted equipment, and handheld instruments, enable valuable patient data to be collected and sent to monitoring centers to track patients' vital parameters and clinical status real-time.
Offer convenient payment options and address any payment barriers for telehealth services so patients can quickly access care. Offering digital payments and mobile payments can improve the patient experience and also practice cash flow.
Don'ts
Don't forget to focus on the patient experience – invest time to make patients comfortable using the technology, whether it is video conferencing, using new tools or downloading specific apps to support their care. This is especially important for elderly patients.
Don't use a virtual background. Stick to neutral or color video backdrops for a telemedicine visit.
Don't use a cell phone as far as possible and don't do your visit when you are in a car or taking other calls.
Don't assume telehealth HIPAA flexibilities provided by the Office of Civil Rights in the wake of the pandemic will last forever. Use technology that is HIPAA compliant and choose HIPAA-compliant medical transcription services to document virtual visits.
Don't forget to confirm patient identity before the visit. Also, always introduce yourself and your staff to the patient.
Don't conduct telehealth visits in public or group settings where others can overhear patient information.
According to a McKinsey & Co. report, physicians saw between 50 and 175 times more patients via telehealth than they did prior to the pandemic. Going by these dos and don't can improve the quality of virtual online consultations. Outsourcing medical transcription can ensure quality documentation of telehealth encounters.