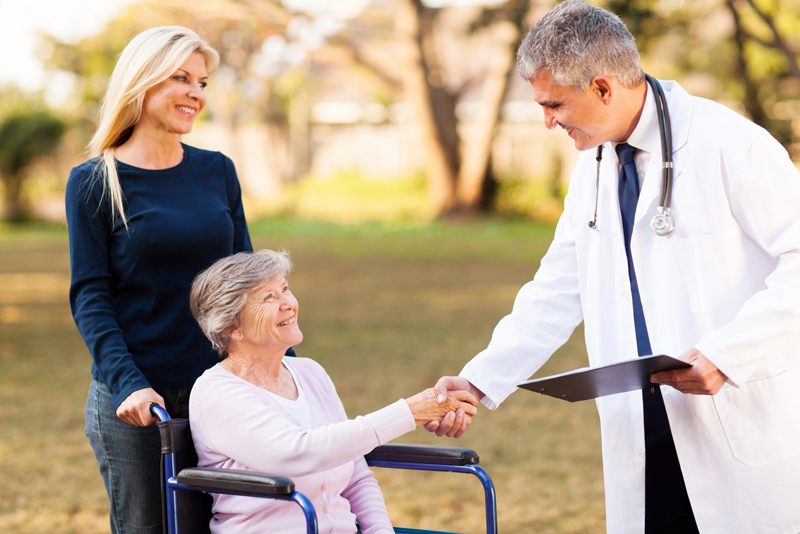 Timely and effective medical attention is indispensable for patients with disabilities, especially those living in assisted living facilities. In many of these facilities there are no on-site or on-call doctors, and when an emergency occurs patients have to be taken to the emergency room. This is a major concern for residents of such facilities and their loved ones. Ready availability of a doctor is a great comfort for patients, especially the elderly who are weak and vulnerable. Even in a regular physician practice, patients are happy and comfortable when the doctor listens to their concerns with patience. This also helps in building trust among patients and improving the patient-doctor relationship. To save time, most physicians utilize medical transcription services that ensure timely medical documentation. With reliable support services, doctors can become better listeners and provide personalized care for their patients.
A convenient and effective healthcare system that can provide medical assistance exclusively to elderly patients at any time is vital to ensure quick recovery from illnesses and a comfortable life. Assisted living is one such set up that is similar to nursing homes but their primary focus is to help residents carry out their daily activities. Moving to an assisted living facility or a nursing home is not easy. But some people choose to move because they live alone and would be happier spending time with others every day. Some need more care than they can get at home.
An assisted living facility accommodates seniors who no longer wish to stay at home and cannot live independently at home. It is a facility that is suitable for people who need assistance in a skilled and intermediate care facility. Initially assisted living was started to serve fairly healthy retirees, offering meals, social activities and freedom from home maintenance and housekeeping. Today, there are many such facilities with 800,000 people. Now most residents are over age 85, according to government data. About two-thirds need help with bathing, half with dressing, and 20 percent with eating.
Like any other American elders, even they have a long list of prescribed drugs and 80 percent of them need help in taking the medicine. Many of these places have become the primary residential setting for people with dementia. Studies show that almost 70 percent of residents have some level of cognitive impairment and the patients find it difficult to coordinate medical appointment, tests, travel to offices and labs. Many experts in the field say more attention should be given to medical and mental healthcare in assisted living.
Lindsay Schwartz, an executive at the National Center for Assisted Living said that assisted living has expanded its role in providing medical care over the years by including nursing staff and partnering with other healthcare staffs. However, most of these facility operators may not be entirely willing to provide medical care on-site. This is because their marketing strategies are built on looking and feeling different from the typical nursing home facilities. Their main objection is to "medicalizing" their communities.
Dr. Alan Kronhaus, an internist and Dr. Taavoni started a practice called Doctors Making Housecalls in 2002. This setup is an example of how assisted living offers medical care. The practice dispatches 120 clinicians, 60 doctors, nurse-practitioners, physician assistants and social workers that provide service to 400 assisted living facilities in North Carolina. They spend ample time with the patients, and look after each person in detail. In a 2017 study, it was found that the practice could reduce emergency room transfers by two third.
In Manhattan, The Lott Assisted Living Residence depends on a single geriatrician, Dr. Alec Pruchnicki, to provide medical care for most of its 127 or so residents. When residents fall sick, they or their family members contact the doctor who provides the required treatment. A nearby hospital, Mount Sinai Hospital also employs Dr. Pruchnicki and provides emergency services when required. Spending a lot of time in emergency rooms and hospitals can be difficult for patients. Though they receive the treatment needed, they get exposed to infections and may contract diseases.
Typically, stays in assisted living facilities are short and most residents move on to nursing homes after around 27 months on average.
Family members are worried when the residents arrive unaccompanied at emergency rooms from assisted living facilities and are not able to give clear details about their problems. So, a solution to this problem could be seeking the assistance of more healthcare providers to the assisted living facility instead of calling 911 and taking them to the emergency room. However, adding doctors to assisted living could lead to higher facility charges.
The new system is advantageous because it can improve the quality of life for homebound patients and caregivers and reduce healthcare costs by allowing people to stay in a safe place and avoid unnecessary emergency expenses, hospitalization etc. With enough on-call doctors at assisted living facilities, better care could be provided for elders and people with disabilities.