A survey published by IDC Health Insights in November 2014 found that healthcare organizations are now more prone to cyber attacks than ever before, partly owing to the widespread use of electronic clinical documentation. Cyber criminals can access your digital health information without authorization, steal or erase it and make you liable for HIPAA violation. If you are depending on outsourced medical transcription services, ensure that your association is with a trusted service provider in the industry.
According to the survey, cyber criminals consider healthcare organizations as soft targets compared to financial services and retailers. The key findings are as follows.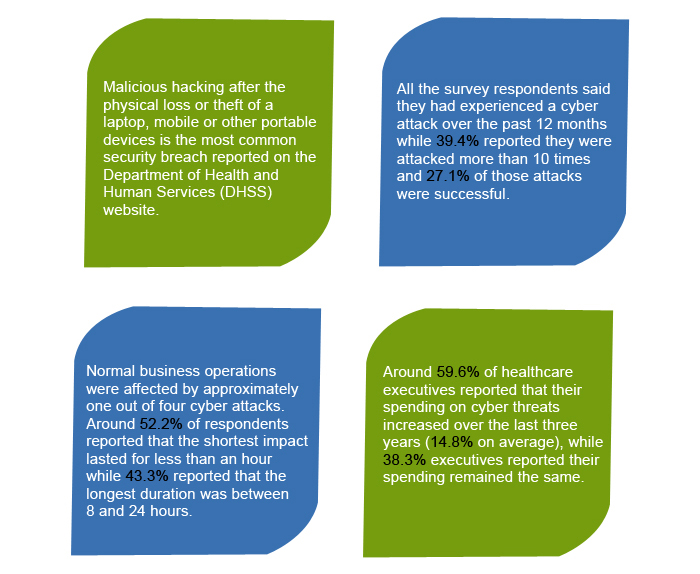 As per the survey, cyber attacks against healthcare organizations will increase in number and level of sophistication over the next 12 to 24 months and organizations have to take a more proactive stance against these cyber threats and attacks. Healthcare organizations should invest in threat intelligence reporting that combines reports from their own network logs and from security vendors. By applying predictive analytics to these internal and external data feeds, it is possible to identify behaviors that suggest whether the systems are being compromised or under attack.
Here are some effective security measures to ensure that your electronic data is secure from cyber attacks and thereby avoid HIPAA violations.
Perform regular checks and updates on the data
Run multiple risk analysis to determine threats and vulnerabilities
Restricted access to data
Contingency plans
Internal auditing
EHR data is prone to errors even with the most effective speech recognition system owing to issues such as a noisy environment or change in dictator's voice due to cold or other difficulties. If you are relying on reliable transcription outsourcing services to ensure the quality of data within your EHR system, check out that the medical transcription company provides the following provisions to make your data secure.
Password-protection for data
Firewalls and antivirus software installed on all computers and updated daily
Encryption for transferred files
Workforce trained and monitored on HIPAA privacy, security, and confidentiality.