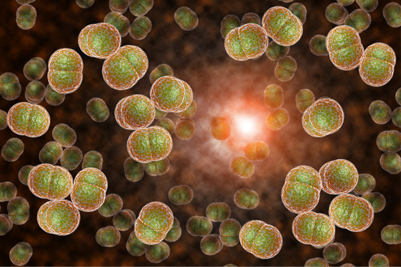 The Centers for Disease Control and Prevention (CDC) is concerned with the prevalence of meningococcal disease among men who have sex with men (MSM), and stresses the need to document MSM status on meningococcal case reports generated using EHR alone or through a combined approach of EHR and medical transcription. Meningococcal disease refers to infections caused by the bacterium Neisseria meningitidis (also termed meningococcus). Though the disease is preventable with vaccines, it carries a high mortality rate if untreated. MSM were not considered at increased risk for meningococcal disease earlier. CDC started considering it seriously after a series of reports found meningococcal disease among men who have sex with men at a significant rate.
As per CDC's Morbidity and Mortality Weekly Report (MMWR), three clusters of serogroup C meningococcal disease among men who have sex with men (MSM) have been reported in the United States since 2012. The New York City Department of Health and Mental Hygiene found 13 cases of meningococcal disease among MSM during 2012 while the Los Angeles County Department of Public Health reported 4 such cases. The Chicago Department of Public Health reported 7 cases of meningococcal disease among MSM during May–June 2015 in the greater Chicago area. In order to understand the epidemiology and burden of meningococcal disease in MSM populations in the United States better as well as inform recommendations, CDC conducted a retrospective review of cases reported from January 2012 through June 2015.
In May 2013 and in August 2015, CDC requested all health departments to review all possible or confirmed meningococcal disease cases among males caused by any serogroup during the period January 2012–June 2015 and reported to the National Notifiable Disease Surveillance System, and determine the MSM status, if possible. All the fifty state health departments and the health departments of New York City, Los Angeles County, Chicago, and the District of Columbia responded to this request. Data analysis was limited to the cases occurring among MSM aged 18–64 years. The significant findings during the case review period are as follows:
Out of the 527 meningococcal cases reported among males aged 18–64 years, 74 cases were identified among MSM though MSM status was not routinely collected as part of national meningococcal case reporting and may be underreported.
Among the 74 reported cases among MSM, the median age was 31 years (range = 20–59 years).
Thirty-seven (52%) out of 71 patients were white, 29 (41%) were black, two (3%) were Asian, and three (4%) belonged to other races.
Neisseria meningitidis serogroup C accounted for 62 (84%) cases while serogroups B, W, and Y accounted
for five, two, and three cases, respectively. The serogroup for two patients was not known.
Overall, 24 (32%) cases reported were fatal. Out of 63 patients for whom HIV status was reported, 37 (59%) were HIV-positive. Among these, 11 (30%) patients died.
Meningococcal vaccination status was known for 41 patients from which six (15%) were vaccinated with a quadrivalent meningococcal vaccine. Five out of the six vaccinated patients had serogroup C meningococcal disease, and two of the five died.
The case review revealed that information on MSM and HIV status of men with meningococcal disease is not documented in most case report forms. Complete and better representation of MSM and HIV status can help to understand the epidemiology of, and potential risk factors for meningococcal disease among MSM in the United States better and provide prevention and control recommendations accordingly. CDC made it clear that health departments need to be encouraged to determine MSM and HIV status during the investigations of meningococcal disease cases caused by any serogroup in males aged greater than or equal to 16 years.
Though it is difficult to include such specific kind of information within EHR currently, providers can utilize the latest technologies to document the same and obtain the service of a medical transcription company if necessary, for accurate and timely documentation.