The productivity of medical transcription process is very important, especially in the backdrop of overwhelming demand for medical transcription. The U.S. Bureau of Labor Statistics expects the volume of healthcare services to continue to increase, leading to a growing number of medical tests and procedures, which in turn will increase the demand for transcription. Technology is the key to increased productivity and this is relevant in the case of medical transcription too. Companies that provide medical transcription services should therefore ensure that they have the expertise and advanced technology to meet physicians' clinical documentation requirements.
Turnaround time (TAT) – the time from dictation to delivery of transcribed documents – is crucial in medical documentation. According to a study published by the Joint Task Force on Standards Development of the American Health Information Management Association (AHIMA) and Medical Transcription Industry Association, the successful implementation of some technologies can significantly reduce TAT. The Joint Task Force lists the following categories of technology as positively impacting TAT:
Portable dictation devices such as microcassettes, digital recorders, personal digital Assistants (PDAs) and more
Speech Recognition Technologies
Systems that eliminate the need for manual entering of data and support automatic collection of patient information including barcode readers, picture archival and communication system (PACS)/EHR integration, handhelds with online patient lists and more
Document distribution technologies such as auto fax, distributed printing and uploading/integration to an information system (document scanner, document repository, EHR and more)
Web based or other electronic means solutions having the ability to access voice and text which include accessing voice files before transcribing the documents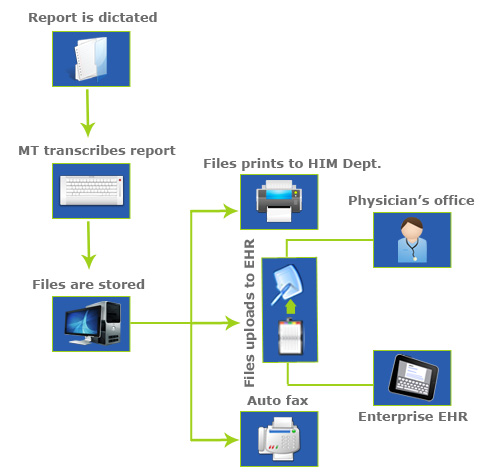 Using the following, the study shows how the use of advanced technology makes it easier to print or fax the documents transcribed after dictation. It also shows that transcribed documents could reach the physician's office easily by uploading them into the EHR. As the turnaround time decreases with the use of advanced technology, transcription productivity will increase eventually.
According to the Bureau of Labor Statistics, increasing technological advancements can make individual transcriptionists far more productive. Earlier, medical transcriptionists were required to listen to an entire dictation for transcribing a medical report. Now, specialized software developed using back-end speech recognition technology can automatically prepare an initial draft of a report. The job of transcriptionists then gets reduced to just reviewing that draft for accuracy (as the software has limitation to identify synonyms, names and other words while converting the recording into printed format) and listening to the original recording if required.
Successfully blending technology, processes and the services of a team of skilled transcriptionists, a professional medical transcription company can help physicians get accurate and timely clinical information for improved patient care, reduce costs, save resources, and meet their revenue goals.