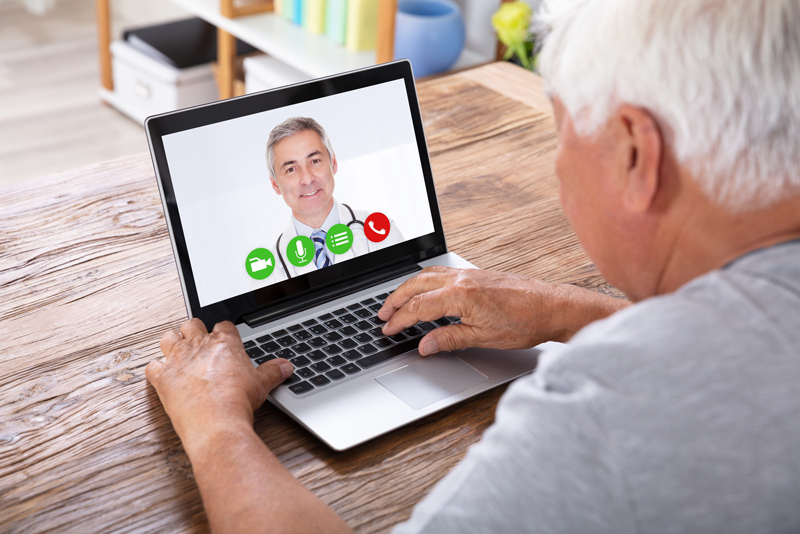 As healthcare providers in the U.S. brave the challenges of caring for people affected by the COVID-19 pandemic, medical transcription outsourcing companies continue to support them with timely and accurate documentation solutions. When the rapid escalation of COVID-19 cases called for a concerted policy response, the federal government announced an expansion of telehealth benefits to help stop the spread of the pandemic. With telemedicine, vulnerable patients receive virtual care without having to visit a healthcare center or physician office.
Telemedicine and telehealth have been around in the U.S. since the 1950s. Over the years, advancements in technologies have made digital health a widely deployed strategy, allowing patients to touch base with their physicians 24×7 for their acute needs. The COVID-19 pandemic has put the spotlight on telemedicine as an effective way to connect patients, physicians and health systems. Remote screening, diagnosis and treatment through telecommunications technology such as remote monitoring devices and video conferences are allowing physicians to screen and treat a greater number of patients in their home. Let's take a look at how virtual healthcare is being used during the coronavirus crisis:
Reduces spread of the disease: Telemedicine allows patients with COVID-19 symptoms to stay at home. Quarantined patients can communicate with their physicians via virtual platforms. By avoiding the need for physical office visits, telemedicine reduces the spread of the virus to the community as well to medical staff.
Limits high-risk non-COVID patients' exposure to the virus: By deploying telehealth programs, people who have other ailments and chronic conditions can schedule telemedicine consultations with their physician from home, without having to visit a medical facility. This reduces their risk of contracting the virus.
Reduces providers' exposure to the virus and other infectious diseases: Using telemedicine to triage patients with acute conditions limits healthcare staff's exposure to the virus. Tele-triage and seeing patients remotely eliminates minimizes risk of transmission of the virus to physicians and other healthcare workers.
Saves healthcare resources: The telemedicine approach to COVID-19 can take pressure off already resource-strained health systems and save money. A Stat News article points out: "As virus continues to spread while we are unprepared to determine whether every person with a cough or fever has contracted the disease and what level of care the person needs". This can lead to unnecessary use of the emergency room (ER). With telemedicine in place, low and medium-risk individuals can touch base with their physician via secure messaging, phone, or video call. The physician will recommend the proper course of action based on information about the patient's symptoms and concerns. By keeping patients unlikely to have COVID-19 out of the ER, telemedicine can keep costs down, save healthcare resources, and prevent overcrowding.
Telehealth Options
There are various forms of telemedicine and telehealth. The options put forward by the American Telemedicine Association (ATA) are:
Remote access to medical services: This brings health care services to distant locations such as rural areas, extending the reach of physicians and health facilities. As a COVID emergency measure, the home has been designated as an originating site effective March 6, 2020.
Live video conferencing and real-time interactive consultation: This involves the use of video for medical consultations with a patient or a specialist assisting the physician in diagnosis.
"Store and forward": Diagnostic images, vital signs and/or video clips along with patient data are stored and transmitted, allowing review and diagnosis by the healthcare professional.
Remote patient monitoring: These services include monitoring blood glucose or heart ECG.
Mobile health: The Internet and wireless devices can be used to get specialized health information. This option also facilitates online discussion groups for peer-to-peer support.
Telehealth and telemedicine help to keep "people safe and out of hospitals and doctors' offices, map the virus and triage individuals needing medical care," said Ann Mond Johnson, CEO of ATA, in a statement (www.foxnews.com).
The Centers for Disease Control and Prevention (CDC) and commercial insurance companies have expanded telehealth coverage to curb the novel coronavirus outbreak. New CMS guidelines require Medicaid and commercial plans to ensure that providers are reimbursed for telehealth services at the same rate as in-person services, remove restrictions on using the home as an originating site, and cover various forms of telehealth such as video, phone, and secure messaging.
As telemedicine services are rendered, outsourcing medical transcription can help providers ensure accurate and complete documentation of digital healthcare visits in electronic health records.